Pawn Expo is the ideal venue to showcase your products and solutions, create lasting relationships with pawnbrokers from all over the US, and connect with hundreds of your best prospects while they are looking for the very types of solutions you offer.
PLUS, the newly designed conference/expo schedule allows exhibitors to enjoy nearly 12 hours of dedicated time with attendees, with no competing conference sessions scheduled at that time.
Booth space and sponsorship for National Pawn Expo 2021 is extremely limited, and available on a first-come, first-serve basis.  There are still a few premium booths available.  Click on the thumbnail below to see availability.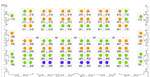 The Marketplace
Take advantage of a unique opportunity to meet one on one with members of our highly qualified network of pawnbrokers. This is "bonus" time outside of tradeshow hours set aside for our valued partners to do good business with good people.
In order to participate in The Marketplace, companies must be a current Pawn Expo 2021 exhibitor and be pre-approved by the NPA to participate in the Marketplace.
The company information you provided on your Booth Contract will be used for all The Marketplace correspondence. This includes the logistics contact. If this information has changed, please contact us immediately at Jody@NationalPawnbrokers.org or (817) 337-8830.
The Marketplace Registration Fee:
The fee to participate in The Marketplace is $1,200 per company.
The Marketplace Hours:
Sunday July 11 – 8:00 am – 4:00 pm
All company tables must be staffed during The Marketplace hours.
The Marketplace hours are in addition to the normal Trade Show hours, which are on Monday, July 12, 9 am- 5 pm, and Tuesday, July 13, 9 am – 1 pm.
Each participating company will receive the following:
(1) 6′ x 30″ table with tablecloth
(6) chairs – 3 chairs on each side of the table.
(2) lunches
Companies are permitted to bring their own tablecloths or backdrops as long as they do not impede fellow participating companies. Nothing may be attached to the walls or floor.
Appointments:
Appointments are not required for The Marketplace. Attendees may choose to make appointments with participating companies, but it is not required. Participating companies may promote that they are participating in The Marketplace and may accept advance appointments from attendees. A list of companies participating in The Marketplace will be available at PawnExpo.com for convention attendees.
Cancellation:
If a company cancels its participation in The Marketplace, no refund will be issued.
[x_button shape="rounded" size="regular" float="none"  HREF="mailto:jody@nationalpawnbrokers.org" TARGET="BLANK" info="none" info_place="top" info_trigger="hover"] EXHIBITOR, SPONSOR, & MARKETPLACE INQUIRIES[/x_button]
You can also submit your questions to:
Jody Kudless
Director of Business Development
732-252-9740
jody@nationalpawnbrokers.org.
Confirmed Exhibitors
| | |
| --- | --- |
| Company | Booth Number |
| AAA Precious Metals | 504 |
| Aaria Inc | 406 |
| ABC Jewelry Inc. | 403 |
| Adamas | 503 |
| Advanced Media Advertising/del Vecchio Prod. | 701 |
| AFT | 113 |
| Atish Diamond, LLC | 606 |
| AV Diamonds | 413 & 415 |
| Bluestone | 511/610 |
| Burrell Printing | 505 |
| Bravo Pawn Systems | 400/402 |
| Complete Sign | 714 |
| The Consultants | 512 |
| Data Age/PawnMaster | 300/302 |
| David H. Fell Company Inc. | 709 |
| DiaTrendz | 501/600 |
| Di-moksh Diam Inc | 304/306 |
| DRC Techno | 103 |
| Eastern Lighting | 604 |
| Edgewater Jewelry Group | 313 |
| Elemetal, LLC | 201 |
| Entrupy | 707 |
| FCP Diamonds | 513 |
| Flexshopper, LLC | 203 |
| Geib Refining Corp | 310 |
| GIA | 502 |
| Global Liquidators | 315 |
| The Gold Man | 204 |
| Gunbroker.com | 615 |
| Guns.com | 211 |
| Healthpoint Plus, Inc. | 102 |
| Heera Moti | 602 |
| Hi-Tech PMR | 214 |
| JAGI | 702 |
| Jahabow | 515 |
| Jewelers Mutual Insurance/Wexler Insurance | 401/500 |
| Julierie Designs, LLC | 112 |
| Kassoy | 100 |
| M&M Merchandisers | 611/710 |
| Marshall & Sterling | 411 |
| Marque | 613/712 |
| Mid-States Recycling & Refining | 410 |
| Nikos Jewelry | 713 |
| Nisha | 514 |
| NSSF | 614 |
| Noble Metal Refining | 607 |
| Padmavati Exports | 202 |
| Palak Diam Inc | 301/303 |
| Pawnbroker Network | 412 |
| Pawn Train | 111 |
| Pawnshop Consulting | 210 |
| Pease & Curren | 612 |
| Podium | 311 |
| Professional Retail Services | 215 |
| Property Room | 605 |
| R3 Diamonds | 205 |
| Rack'Em/Horizon Manufacturing | 104 |
| The Rapaport Group | 407 |
| Regional Events | 105 |
| Retail Security Services | 213 |
| Rolland Solutions | 106 |
| Shri Diamond/Jebel Gems, Inc | 101/200 |
| Sparkle Dazzle | 305/307 |
| Solitaire NY. Inc | 507 |
| Stallcup Group, Inc. Exit-Strategy Consultant | 404 |
| Star8Wallet | 414 |
| StarDimon, Inc. | 115 |
| Stargems | 603 |
| State Associations | 312 |
| Technical Pro | 107/206 |
| Text Request | 704 |
| The Jewelry Group | 506 |
| The Gold Man | 204 |
| Times Past | 706 |
| Today's Pawnbroker | 314 |
| Watch Certification Services of America | 405 |
| Worldwide Diamond Co. | 703 |
| Union Life & Casualty Insurance | 207 |
| UPMR | 510 |
| Yehuda | 601/700 |
(Visited 140 times, 1 visits today)