You are part of a 3,000-year-old profession! Today, that is a $3 billion industry, just in the US alone. Most stores are family-owned and operated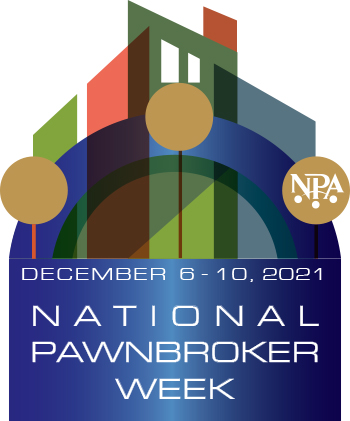 and are multi-generational. You can't get more American than that! Use this week to educate and celebrate your store, your family, your staff and your customers and your community.

This year, National Pawnbroker Day will kick off a week chock full of activities for recognizing the important work of pawnbrokers.
Here's a look at the themes for each day:
SCHEDULE
Monday, December 6 – National Pawnbroker Day
Post about the history of pawn. You can find information about this on the History of Pawn page.
Schedule Media to visit your shop. Use this Media Template.
Schedule an activity to celebrate your employees. Check out our tips here.
Decorate your shop to let everyone know about this special day.
Offer one-day-only deals on this day.
Tuesday, December 7 – Who are Pawnbrokers?
People need to know who you are! Are you a family business? Multigenerational? Post family pictures on your website and social!
Hashtags: #WeArePawn #PawnFamilyBusiness
Wednesday, December 8 – How does pawn work?
In advance of National Pawnbrokers Week, take videos or pictures, with permission, of any first-time pawn customers. Post with hashtag #MyFirstPawn.
Thursday, December 9 – Shop stories
What is the history of your shop? Was it started by your grandparents? Did you face adversity only to come back? Are your employees a family? Tell your story online and on your webpage.
Hashtags #mypawnstore, #secondgenpawn, (or third gen or fourth gen!) #NPAstrong, #ourpawnfamily. Tag NPA so we can share your story too!
Friday, December 10 – #PawnGives
This

is

the

13

th

year

that

pawnbrokers

have

participated 

in philanthropy on "Giving Day."
Please give generously to NPA causes, such as the FBL Scholarship Fund or PawnStrong, which benefits NPA members who are facing catastrophe.
Fundraise in your community with toy drives, food drives, musical instrument donations to schools, supply drives for animal shelters and more!
Hashtags #PawnGives, #PawnCares. We will be looking for these to share on our social, so be sure to tag NPA!